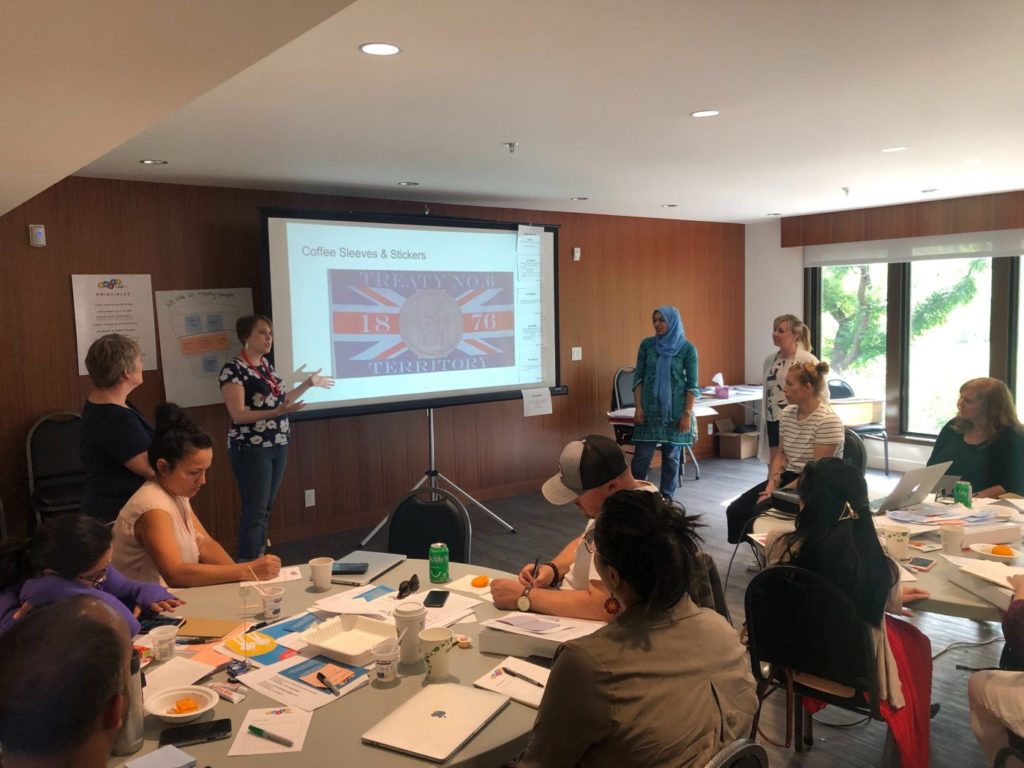 Illuminating the Complexities of Dealing With Racism
by Rebecca Craver, Pastor, Edmonton Moravian Church in Edmonton, Alberta
Beginning in February of 2019 I joined a group of about 25 people from various backgrounds to work with a community initiative to address racism in our city.  It's called, Shift Lab, a social innovation lab supported by the Edmonton Community Foundation to support the development of anti-racism in our city.  As in all social innovation the idea is to work in a lab setting to develop prototypes and to see if they can help make change can happen…in our case, shifting ideas and people bit by bit into new behaviors and ways of thinking around racism. 
Part of the genius of Shift Lab is the diverse background and experiences of the lab teams and the stewards who help support the work of the lab. Around our tables are people who work in local, provincial and federal government positions, designers, pastors, academics, teachers, activists, non-profit leaders and others. The various skills that are brought to our work enhances our conversations. We have principles for our work together and one of them is to let the conversations "go there"–to the place where we each get to be vulnerable, where learning happens and change begins. It has not always been easy but there have been some beautiful moments of new connections in the midst of a difficult work. The process was designed to be flexible, to adjust to the needs that come up and to make space for each of us individually to grow while working towards a common goal. The time we spend working together is making an impact on the prototype ideas by illuminating the complexities of dealing with racism.
When a friend told me about Shift Lab I was intrigued by the idea. There is so much discussion around racism in Canada and the United States, especially, I wondered how this model might help to inform one of many needed responses to address the racism in the systems that exist in our societies and in individuals. I have been encouraged by our work together. Individually this lab has challenged me in my own internalized racism and has given me more courage when it comes to working to address the systemic racism that is prevalent in our society. In my experience, the conversation around race often is stopped by focus solely on individual transformation. "If we can all respect each other…when each person is recognized for their character…etc" The problem with that logic is not that individual transformation isn't necessary for anti-racist behaviors to develop but it doesn't go on to explain that when an individual becomes of aware they should be looking for ways to change the systems, social patterns and privileges that allow for racism to go unchallenged.
How does individual transformation move into larger societal shifts in awareness and action?
As we began the process I wondered what my experience as a pastor would bring to the group, how would I contribute from my experience. I don't know much about government policy, city wide initiatives or corporate business, but I do know what it is like to walk alongside people who are seeking transformation. I have spent the first decade of my working life experiencing the joy and sorrow of walking with people who have chosen to follow a way of life that invites and encourages us to let go of who we are to become who God has created us to be. I know that the process of change does not happen in a vacuum. Isn't that why Christ gave us the Spirit and the Church? The process of letting go of ideas in order to make room for others, even if we want to be changed, is very difficult. I am convinced that this work must be done within communities and relationships. The Church has some experience to share in that regard. For over two millennia we have sought the transformation of an individual's faith and corporate expression of "The Way" of Jesus. We have learned how to support human beings in a life-long pursuit of transformation. I have learned that a practice of compassion, accountability and building relationships are integral to support change in individuals and systems.
So much of the work that comes with being an anti-racist is about deconstructing the walls we have created to keep us separated from one another and making amends for the harm that separation has caused. There is a long road ahead but I am hopeful that what we can do together will make a difference. And I am reminded over and over that change happens often with one small shift after another that builds into a movement that changes the world…even if it begins as tiny as a mustard seed.